They usually don't fail. But when they do…
You're popping too many antacids.
You're taking heartburn meds.
---
OK, a little more detail…
Good news: there's usually nothing wrong with the fish oil pill
Bad news: it's usually because of what you ate
I know, not what you wanted to hear.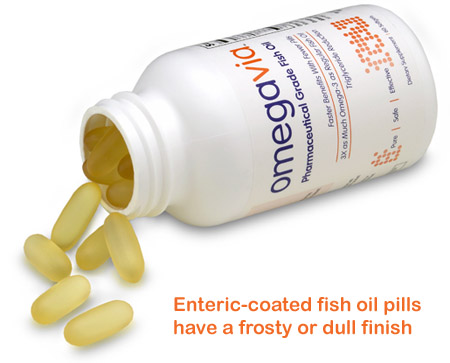 If you've been reading this blog for a while, you know that things aren't quite that simple.
To get to the bottom of it, let's quickly take a look at what enteric coating is.
What is Enteric Coated Fish Oil?
Enteric coating is a sprayed-on layer on the outside of the fish oil pill's gelatin shell. It's sprayed onto the capsules in a drum sprayer.
Think cement mixer. Except, there is a nozzle that sprays the enteric coating material onto thousands of shiny fish oil pills. When all is said and done, the clear pill becomes frosty or translucent.
There are a few types of enteric coating materials used to coat fish oil pills. The most popular enteric coating material is methacrylic acid copolymer. It's been used for decades and works very well. But as you probably guessed, it's synthetic. And people don't like putting methacrylic-anything in their bodies.
So we use a plant-based cellulose coating derived from algae to coat OmegaVia. Works pretty well. But it's a little tricker and a lot more expensive – that's OK, we don't mind.
The purpose of enteric coating:
Prevent fishy burping and repeating. This is the #1 complaint people have about fish oil and the #1 reason why people stop taking Omega-3 supplements.
Reduce potential damage to Omega-3 by stomach acids.
How Enteric Coating Works
The material used to enteric coat fish oil supplements is acid-resistant. In plain English, that means the capsule will not dissolve in an acid environment. Like your stomach.
Stomach acid is much more powerful than lime juice. The acid helps with digestion and with disinfecting food.
A regular fish oil pill that is NOT enteric coated will dissolve in the stomach in about 15 to 20 minutes. Once the pill dissolves, the oil can rise to the surface and possibly cause burping.
Since enteric coating will not dissolve in acidic environments, it stays put. It will not dissolve in the stomach. If it doesn't dissolve, you cannot burp up oil or possibly damage the Omega-3.
Enteric coated pills will simply move along untouched past the stomach to the small intestine.
The duodenum or small intestine is not acidic. It is neutral. Stomach acids are neutralized at the entrance of the small intestines.
In the 'safe' environment of the small intestines, the enteric coating quickly dissolves. Within minutes.
At this point, the oil is too far down the gullet for you to burp it up.
Neat trick!
We test it too.
How Enteric Coating is Tested
The new lot of OmegaVia being manufactured and bottled just got tested. In two steps.
Step 1: We put the pills in 'Gastric fluid,' a solution that imitates the acidity of the stomach. We then stir it for 2 hours. It should not dissolve. And it doesn't.
Step 2: We take those pills and put them in a solution charmingly called 'intestinal fluid.' Not unlike the goo that splatters at the end of space alien movies. This fluid mimics the environment in the small intestines or duodenum. The pills always fall apart in this space-alien-goo within minutes.
This is proof that the enteric coating works.
Weasel Alert!
Sometimes, enteric coating is used to cover up old, rancid fish oil. Yes – gasp! – there are weasels out there.
That's not why we enteric coat our fish oil. It's just our formula. We enteric coat. Always. Even if the oil smells fresh like a spring meadow!
Three Reasons Why Enteric Coatings Fail
Lousy paint job. Like your walls or your car, enteric coating is spray-painted onto the capsules. It's a science and an art. Sometimes, there can be a chip or a crack in the enteric coating. This makes the coating useless. Fortunately, this does not happen 99.9% of the time.
End result: burping.
Antacids. Think TUMS, Mylanta, Maalox, or Alka-Seltzer. Products like these may provide relief. But it also makes the stomach more like the small intestines. So what happens when you take enteric coated fish oil with TUMS? The enteric coating 'thinks' it has reached your small intestines and it dissolves. But it's not! It's still in the stomach.
End result: burping.
Heartburn medications. There is a class of drugs called Proton Pump Inhibitors (keeping with the space alien theme today.) Think Prilosec, Prevacid and Nexium. These drugs reduce acid production in the stomach. They may temporarily make life more bearable. But like TUMS, it makes your stomach less acidic.
End result: enteric coating dissolves too soon and you may burp up fish oil.
There are other reasons why your stomach may lose its natural acidity:
Infection – H. pylori infections are common and can reduce stomach acidity.
Stress
Vegan diet
Inappropriate (Standard American Diet) diet
Addressing infections are beyond the scope of this blog but if you're a stressed out vegan, well, you know what to do.
What are your options?
If you take antacids… you can change your fish oil dosage time to a few hours before or after taking the antacid. This should return the stomach acidity to a more natural state. So you may avoid burping.
If you take heartburn meds…unlike Antacids, some heartburn pills can keep working for 24 hours. Then most people hurry up and take the next dose. So there is never a time when your stomach is as acidic as it should be. So if you take Prilosec every day, enteric coating may not work as intended.
Not everyone taking Prilosec will burp up fish oil. Most don't. This is just an explanation why a simple and safe technology sometimes stops working. It's not the end of the world. Your Omega-3s will still get absorbed.
A (much rarer) slightly more awkward problem
Some people, well, pass enteric coated fish oils right through their digestive system.
Yup, out the other end.
Why does this happen? More like, how the heck could that happen?!
Simple. It's the reverse of antacids and heartburn meds. Your intestines are too acidic.
How might that happen? Too much apple cider vinegar.
Vinegar is acidic. And if excess apple cider vinegar is consumed, it may overwhelm the small intestine's ability to neutralize the flood of acid.
End result: pill leaves your body without dissolving.
A hormone called Secretin controls the acidity in the duodenum. In some people, secretin production may be limited.
If something is amiss with your secretin secretion, then, well, cutting out apple cider vinegar may not be enough. Time to make an appointment with your gastroenterologist and/or your endocrinologist.
A bigger issue: if your entire digestive system is so acidic that enteric coated pills are passing right through, your colonies of probiotic bacteria (and you, their host) may be in serious trouble. Probiotic bacteria in your gut are associated with everything from immune response to your mood.
So these are the technical reasons why enteric coating may fail. Most people do fine with non-enteric coated pills.
If you have a good quality product, whether you have this coating may not matter that much.
*Individual results may vary. These statements have not been evaluated by the Food and Drug Administration. This product is not intended to diagnose, treat, cure, or prevent any disease.