(…and why I stopped taking the most popular K2 supplement and formulated our own)
We posted a couple of blogs about Vitamin K2 a few years ago.
A lot's happened with Vitamin K2 since then. This is an update.
In that blog, we struggled to find a good product to recommend. That got me thinking about what an ideal Vitamin K2 product should look like.
I spent a year gathering and reading all the research. And another year finding the right ingredients to make a product based on that research.
Summary:
You need BOTH MK-4 and MK-7 forms of Vitamin K2. MK-4 may be more important.*
The shape of the K2 molecule makes a difference (CIS form or TRANS form)*
It's not critical to have Vitamin K1 in K2 formulas*
*These statements have not been evaluated by the Food and Drug Administration. This product is not intended to diagnose, treat, cure, or prevent any disease.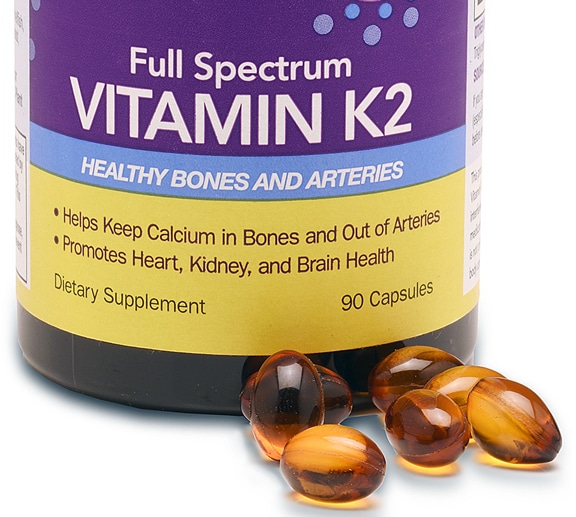 You need both MK-4 and MK-7 (particularly MK-4)
These are very different molecules with different structures and different functions.
Based on all of the above, you could make a compelling argument that MK-4 is much more important than MK-7.
Our understanding of these various forms of K2 is still in its infancy. The longer K2 molecules like MK-8 thru MK-14 may also be essential in trace levels. Some of them have been associated with heart health, but once again, we simply don't know enough to say what each of these molecules do.
It may take another generation of research for us to accept that K2 is really K Complex. Like B Complex.
Watch out for self-serving anti-MK-4 marketing messages
Marketers and manufacturers of MK-7 say it's better than MK-4.
(Of course, they do!)
Plasma half-life. They keep repeating the fact that MK-7 has a much longer plasma half-life than MK-4. This is true – but it's a self-serving argument. MK-4 is rapidly soaked up by many organs and tissues, so it will be quickly removed from the blood.
Think about it this way: throw a fistful of $100 bills into the air at a packed football game. You won't see any bills on the stadium floor after a few seconds. Does that mean no one has money?
A short plasma half-life his does NOT make MK-4 useless, redundant or any less beneficial to your health. The plasma half life does not make a molecule more or less effective in the body. MK-4 is stored in the brain, pancreas, salivary glands, and arteries. This stored MK-4 cannot be measured and has specific biological activities in these tissues (beside Gla-protein formation.) This stored tissue pool of MK-4 may be present much longer.
There are no studies that compare the effects of MK-4 to MK-7. Once you begin thinking of MK-4 and MK-7 as having different roles in the body, rather than a weaker/stronger form of the same thing, the anti-MK-4 sales pitches start to sound hollow.
Synthetic vs Natural K2
If you cruse the interweb seeking knowledge on K2, you will read that MK-4 is synthetic and that MK-7 is natural. Neither MK-4 nor MK-7, in my opinion, is natural.
They are both 'made from natural sources' like leaves, petals, and legumes. But both nutrients undergo extensive fermentation, purification, extraction, and precipitation that it's really not accurate to call either of these ingredients 'Natural.' If you must have 'natural,' eat Natto or fatty goose liver.
In my opinion, even K2 made from Natto or Garbanzo (chick peas) are nature-identical, not natural.
Importance of MK-4 during pregnancy and in prenatal vitamins
Given what I stated about the need for MK-4 during pregnancy, you'd think that all prenatal vitamins would have MK-4.
They don't.
Some prenatals have MK-7, which only benefits the mother. Ideally, they all should have MK-4. In a perfect world, you should all be getting K2 from real food.
(Oh, please, please read this book: Vitamin K2 and the Calcium Paradox by Dr. Kate Rhéaume-Bleue. If not for you, certainly for your kids.)
I don't know a single prenatal vitamin that contains MK-4. I don't know a single OB/GYN who suggests K2-rich foods (let alone MK-4) to their patients. I find this disturbing since weeks 5-12 of pregnancy are critical for the baby's teeth development. Both sets of teeth, your 'baby teeth' and adult teeth are formed in utero during weeks 5 – 12. Proper bone, jaw, skull, dental development is impossible without adequate MK-4.
Pregnant women may be able to partially convert relatively abundant K1 to MK-4. This may be an evolutionary advantage in women of reproductive age, much like their ability to convert ALA Omega-3 to EPA Omega-3 better than the rest of us. But gut dysbiosis and statin use stop this from happening. And virtually everyone these days has gut dysbiosis.
As far as we know, there is little or no role for MK-7 in fetal development. The human body is ultra-efficient. There is very little duplication of function. It is naive to think that all we need is MK-7. The evidence that MK-4 and MK-7 do different things, and that BOTH are essential is very compelling.
Not all MKs found as supplements
We may still not be off the hook by taking an MK4 + MK-7 supplement. The other MK forms are not available in supplement form and can only come from fermented foods and fats of animals that have recently grazed on rapidly growing green grass.
Why 'recently', 'rapidly growing', and 'green grass'? Because they contain the most chlorophyll. Chlorophyll in green grass is processed by probiotic bacteria in the ruminating guts of grazing animals into MK forms.
So cows eating dead hay may not produce K2 rich dairy products. We won't bother talking about cows fed corn and soy.
The shape of the MK-7 molecule makes a difference
This is a somewhat new realization. No one is talking about it because it is inconvenient.
You may have heard that there is a difference in absorption or biological effect between CoQ10 (Ubiquinone vs Ubiquinol) or Omega-3 (ethyl ester vs triglyceride vs phospholipid) forms. There is truth behind these notions.
The situation with Vitamin K2 is somewhat similar.
There are two forms (isomers) of MK-7. Cis MK-7 and Trans MK-7.
MK-7 is always found in the trans form in nature and in foods. Cis form of MK-7 is not found in nature and may not provide the same benefit.
If you look at the structure, it becomes clear why.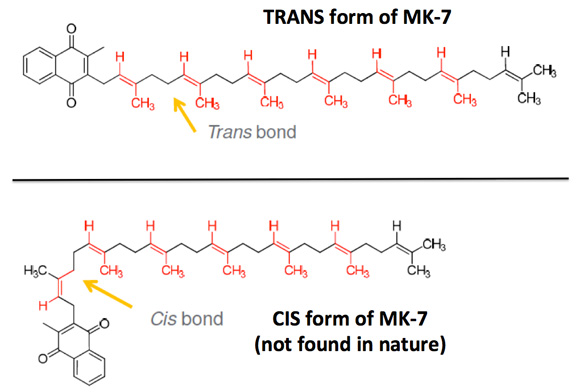 If you get your K2 from foods, then great – this does not apply to you. But if you get it from supplements, listen up.
Most MK-7 found in supplements are a blend of Cis and Trans.
Example: if a label says 100 mcg (microgram) of MK-7, you'd expect most of it to be absorbed or bioavailable. Not necessarily. In most cases, it is impossible to tell how much of the 100 mcg is in the biologically active and beneficial trans form. Most of it is probably in the trans form. But K2 supplements analyzed at the University of Oslo suggests that some products contain only about 15% of MK-7 in the trans form.
So this hypothetical product may be providing you just 15 mcg of trans MK-7 and 85 mcg cis MK-7, instead of the 100 mcg of usable K2 as claimed by the label.
This is a bit of a bummer. Because most of the manufacturers of K2 products don't even bother to check how much cis and trans is present in their product. It has simply not dawned on the industry's collective conscience. (But it may…if you ask them to test and share the results.)
MK-7 molecular structure of various sources per unpublished data from University of Oslo/KappaBio:
| | |
| --- | --- |
| MK-7 ORIGIN | % MK-7 as TRANS |
| Norway | 98% |
| Japan | 95% |
| Europe | 89% |
| India | 71% |
| China | 15-30% |
Are Natto-based K2 products all-trans?
Products that claim to be all trans because they are made from Natto, are, well, hoping it is all trans.
Natto-based K2 supplements on the market have very little to do with the dish Natto. They use a similar (or the same) bacteria for fermentation, but every thing else is different. Instead of soybeans, they start with soy protein concentrates. The soy protein fermentation process includes complicated manufacturing steps and the use of solvents. During this process, small deviations can influence the molecule structure and…voila! Cis MK-7.
There is one lab here in California and another in Norway that can test for the presence of cis MK-7. When I asked them about it, they said there isn't any demand for this test. (For chemistry geeks: use HPLC/UV reverse-phase C30 column at 270 nm to sort out stereoisomers.)
Why I stopped taking the most popular K2 supplement and formulated our own
For several years, I took and recommended Life Extension's Super K formula. It has both MK-4 + MK-7 and the price is right. Not surprisingly, it was and still is the most popular K2 supplement in America.
But then I sent Life Extension Super K formula to the lab in Norway can measure both cis and trans isomers of MK-7.
I was not pleased with the result.
Only about a quarter of the MK-7 was in the preferred trans form. The label says 200 mcg of MK-7. Only 54.8 mcg of that is trans MK-7. That meant I'd have to take four pills to get 200 mcg of MK-7 and that would give me way too much K1.
What if the lab in Norway was wrong?
Just to be sure, I sent another Life Extension K2 bottle to Eurofins Lab here in California. The result was almost identical – this time, they found 53.5 mcg of trans MK-7 per pill, about a quarter of what is declared on the label.
So I stopped taking the Life Extension K2 and switched to Nutrigold K2. I trust Nutrigold but I tested their product too for cis/trans ratio and they, as promised, were selling all-trans MK-7. But their product is missing critical MK-4.
It became clear that I'd have to formulate a K2 product from scratch. One that had an meaningful level of both MK-4 and trans MK-7. But with no added K1.
Life Extension Super K2 MK-7 Isomer Analysis
| | | |
| --- | --- | --- |
| Lab | Eurofins | Synthetica |
| Total MK-7 (mcg) | 271.9 | 211 |
| Cis-MK-7 | 218.5 | 156 |
| Trans-MK-7 | 53.5 | 54.8 |
| % of MK-7 as Trans | 19.6% | 26% |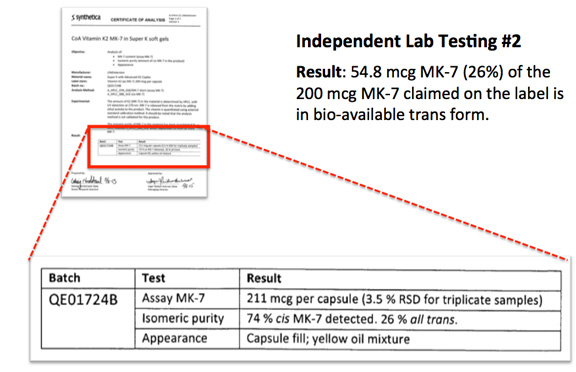 Addendum (January 2018): It's been three years since this article was written. Life Extension has recently reformulated their Super K product to contain all-trans MK-7. My issue with the Life Extension product is no longer valid. The original content of this post remains for educational purposes.
It's not critical to have Vitamin K1 in K2 formulas
Vitamin K1 has been repeatedly shown to offer no benefit to your heart.
Vitamin K2, on the other hand, has been repeatedly shown to improve heart health.*
Vitamin K1 is essential for proper blood coagulation. K1 has little or no role in proper calcium deposition.
Most adults are not K1 deficient. Even consuming very small amounts of green leafy vegetables or vegetable oils can provide you with ample K1. It's even found in fast food and soybean oil.
Better yet, your body can recycle K1. You rarely, if ever, become deficient. So no need to supplement. If you supplement with K1, serum levels reach a plateau at 200 mcg. Doses of 1000 mcg per day may even contribute to periodontal disease.
Vitamin K1 and K2 negate the effect of drugs like Coumadin or Warfarin. Actually the truth is the reverse. These anticoagulant drugs stop K1 recycling and so keep the blood very thin. Taking these drugs keep you in an artificially K1 and K2 deficient state. So if you're taking these drugs, supplementing with K1 or K2 makes the drug ineffective.*
Anticoagulant drugs also take out some K2. There is evidence that people on anticoagulant drugs quickly develop arterial calcium deposits.
As if that wasn't enough, cholesterol-lowering statin drugs also keep you in an artificially K2 deficient state. *
Regardless, if your doctor deems it important for you to be on these drugs, adding K1 (or K2) to the mix warrants a discussion with your doctor.
I regularly talk about the need to avoid vegetable seed oils and processed foods. Here is another reason: soybean and canola oils contain K1. When these oils are hydrogenated for use in processed foods, K1 gets converted to DHP (dihydrophylloquinone), a substance of questionable impact. Yet another reason to go back to traditional fats like grass-fed butter.
All said, having K1 in your K2 supplement is not critical because it increases risk a little without adding much in the way of benefits.
Ideal K2 dosage
MK-7 has never been consumed in high doses in human history, unless you lived in eastern Japan and eat Natto. Japanese consume 230 mcg of MK-7 per day due to Natto consumption. No other culture consumes that much MK-7. So, a dose of 100 mcg seems more than adequate. It is, after all, the fourth most abundant/important K2 in the body.
We consumed MK-4 regularly when we were hunter gatherers or even a century ago when we were not disgusted by the concept of eating organ meats like liver. Such a traditional diet would not have given you much more than 500 to 1000 mcg MK-4 per day.
Some Japanese studies have used 45,000 mcg (45 mg) of MK-4 daily dosage without major side effects. 45,000 mcg per day is an extreme dose without basis in human diet. 45,000 mcg is about 50X what you might be able to get from eating K2-rich foods. Anything higher than 1000 mcg per day is well outside your body's operating parameters. Supplements based on these Japanese pharmaceutical protocols should be taken with caution.
16,000 postmenopausal Dutch women averaged 29 mcg of K2 per day. Americans probably get far less than that.
Current research trends are with higher doses of MK-7. Both 180 and 360 mcg doses of MK-7 appear promising and well-tolerated in supporting healthy arterial elasticity.*
US Pharmacopeia considers Vitamin K2 supplementation to be safe.
Products worth considering
Thorne Vitamin K2 Liquid (MK-4). This may be a bit pricey upfront, but it is a liquid MK-4 and each drop contains 1000 mcg of MK-4. One bottle may last you a year. Their dosage is based on Japanese osteoporosis studies and is extreme. I think a drop or two drop a day is about all you'd ever need. This is what I gave my kids when they were too young to swallow pills or eat solid foods.
If you want a standalone MK-7 (not sure why you would), there are plenty of options online – Nutrigold and Doctors Best are trustworthy – I've tested them both and they are both in the all-trans form. Between the two, I'd go with Nutrigold because they have higher-than-promised amounts.
Based on the research and testing I've done, we formulated InnovixLabs Full Spectrum Vitamin K2 with 500 mcg of MK-4 and 100 mcg of MK-7. Both forms in one pill. The size/shape of the pill was described as 'adorable' by my wife.
I prefer to get my nutrients from foods and not supplements, leaning on supplement when I'm traveling, busy, or sick.
If you want to get your K2 from foods, the most palatable options are grass-fed butter, European hard cheeses, and poultry. Natto is for the brave – it has been described as a sticky, stretchy blend between gummy bears and snot. Fatty goose liver (Foie gras) is banned where I live!
It doesn't help that Americans, fearing cholesterol, have cut down on red meat, eggs, and butter by about 20% in the last few decades. Specifically, we eat 40% less K2-rich animal fats and a 177% more vegetable oils that are K2-free. This misguided diet shift may have actually worsened the state of all our arteries and our bones.
Note that the food options below are mostly MK-4, as that's what's in most foods:
| | | |
| --- | --- | --- |
| Food | mcg K2 per 100 g | Form of K2 |
| Natto | 1103 | MK-7 |
| Goose liver | 369 | MK-4 |
| European hard cheeses | 76 | MK-4 and MK-9 |
| Pastured egg yolk | 32 | MK-4 |
| Regular egg yolk | 15 | MK-4 |
| Grass-fed butter | 15 | MK-4 |
| Chicken liver | 14 | MK-4 |
| Skim milk | 0 | n/a |
 Bottom-line:
Look for products that contain both MK-4 and MK-7.
Find out if the K2 is in the trans form.
All other factors are secondary to the two above.
---
---
*These statements have not been evaluated by the Food and Drug Administration. This product is not intended to diagnose, treat, cure, or prevent any disease.