What can Omega-3 during and after pregnancy do for your kids?
Omega-3 from fish oil has been strongly associated with:
Fewer waking episodes and an hour of extra sleep, says a new study.
Things to remember:
Moms need extra Omega-3 before pregnancy and especially during the last trimester and breast feeding.
Make sure formula is fortified with Omega-3. Once you move to milk, make sure it is organic, full-fat and preferably grass-fed.
Once they're eating solid foods, get them used to eating wild salmon instead of supplements. Keep trying. Get clever.
Omega-3 gummies are sugary junk. There's very little Omega-3 and lot of sugar and other useless stuff.
Omega-3 smoothies are great options for picky eaters.
Flavored liquid fish oils and flavored gelatin capsules are effective but not for picky eaters.
Plant-based Omega-3 (Flax, Chia) are not useful as fish-based Omegas.
DHA is the key Omega-3 for infants but as the brain growth slows at about age 3, the need for DHA decreases. After 3, kids need a balance of both EPA and DHA.*
How much Omega-3 does your child need?
Aim for 5 mg of DHA per pound of body weight for infants 6 to 24 months of age.*
Birth to 12 months: may take up to 500 mg per day of combined DHA and EPA.
Kids 1 to 3 may take up to 700 mg per day.
Kids 4 to 8 may take up to 900 mg per day.
Kids 9 to 13 may take up to 1200 mg per day.
Older teenagers may require as much as 1600 mg daily.
World Health Organization suggests conservative levels. US Institute of Medicine recommends numbers the numbers above. Wild salmon eaten two or three times a week may meet these needs.
Still, very few families seem to get enough Omega-3 from actual seafood. Possibly because of the cost or available seafood is no longer fresh and stinks up the house when cooked.
Lack of cooking skills is another – this is why I have my foodie friend on speaker phone when we get the salmon out.
Omega-3 Product Options For Your Kids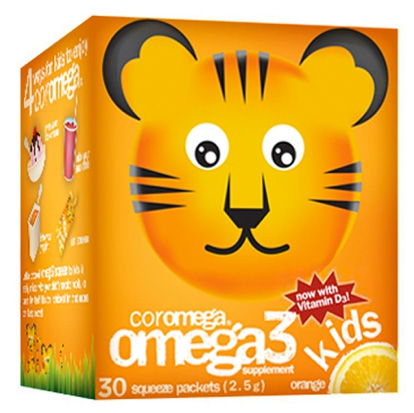 Coromega Kids Omega-3 Squeeze Orange
Cost: $14.99 for 30 packets (serving = 1 packet)
Fish oil: 2000 mg
Omega-3: 650 mg
EPA: 350 mg
DHA: 230 mg
Ingredients: egg yolk, ascorbic acid, natural orange flavor, natural pineapple flavor, stevia, vegetable oil, sodium ascorbate, d-alpha tocopherol, citric acid, potassium sorbate, sodium benzoate, beta carotene, xanthan gum, menthol, cholecalciferol.
My comments: Coromega has been the go-to product for people who can't handle pills or gulping plain fish oil by the spoonful. There is a solid dose of Omega-3 in each packet. I'm not happy about the preservatives and the gums. Otherwise, this is a very versatile form of Omega-3 for the whole family. The extra Vitamin D3 is sort of a bonus (like the dealer throwing in floor mats with your new car) – but for D3 to be properly used, you need Vitamins A and K2.
What my 3-year-old twins said: a spoonful by itself did not go over well. They looked at me with a 'how could you?' face and ran away. But when mixed with fruit sauce or smoothie, it was barely noticed.
---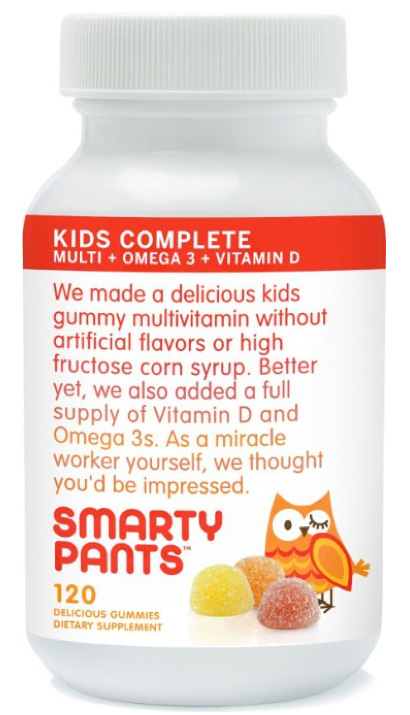 Smarty Pants Kids Complete
Cost: $ $16.49/120 gummies
GOTCHA WARNING: 4 gummy serving!!
1 gummy provides:
Fish oil: 75 mg
Omega-3: 25 mg
EPA: 14 mg
DHA: 7 mg
Ingredients: Organic cane sugar, organic tapioca syrup, gelatin, pectin, citric acid, natural flavors, colors from black carrot juice, annatto and turmeric.
My comments: these are popular and yummy. But a serving size is four gummies and that adds up to a lot of unwanted sugar and processed ingredients and very little Omega-3. It's the gummy curse. No gummy that tastes good has enough Omega-3. The packaging is clever, cute and whispers all the right things. The product ultimately leaves out the most important thing (to me at least!) – Omega-3. It's candy masquerading as Omega-3. Pass.
What my 3-year-old twins said: they wanted more. (Of course, they did! It's a candy with a halo.)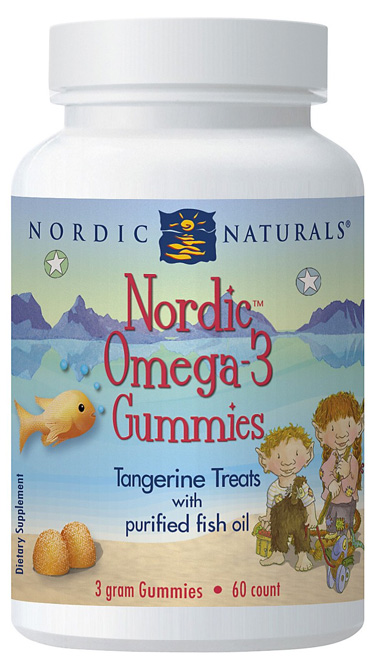 ---
Nordic Natural Omega-3 Gummies
Cost: $22.95 for 60 gummies
Gotcha alert: 2 gummy serving!
1 gummy provides:
Omega-3: 41 mg
EPA + DHA: 34 mg
Ingredients: organic tapioca syrup, organic sugar, porcine gelatin, pectin, citric acid, natural flavor, natural color, sodium citrate.
My comments: I like this product a bit more than most Omega gummies. I generally like most product made by Nordic Naturals because the ingredients are safe and inoffensive. There is a combined EPA + DHA number instead of separating them out – I don't like that. With young kids, I'm interested in DHA and I'd like to know amount of DHA. I still hesitate recommending this product, not because of the missing DHA number, but because it's good-for-you candy. That's as good a gummy gets.
(If you opt for Omega gummies, do not buy Lil Critters or VitaFusion – they inflate their Omega-3 numbers with ALA (plant) Omega-3, which are not as effective as EPA and DHA Omega-3 from fish oil. This is a deceptive practice.)
What my 3-year-old twins said: 'Can I have more?'
---
Barleans Kid's Omega Swirl
Cost: 8 oz bottle, $11.69
1 teaspoon serving:
Omega-3: 513 mg
EPA: 180 mg
DHA: 180 mg
Ingredients: water, xylitol, glycerine, gum arabic, natural flavors, citric acid, xanthan gum, guar gum, turmeric, sorbic acid, d-alpha tocopherol, ascorbyl palmitate.
My comments: This is a good dose of Omega-3. These smoothie type products are great for kids. If you can get it new and fresh, then your kids will probably like it. Mine did. But I've also received a stinky bottle from Amazon.com. The problem is that 'smoothie' Omega-3s have water in them and no matter how much you try to keep the product chilled or away from oxygen, there will always be some oxygen in the water. And that oxygen will react with the Omega-3 causing rancidity. The shelf-life for smoothie Omegas is only about 6 months at best and the product may spend the best weeks of its life getting transported to a store near you.
Oh – note the mish-mosh of preservatives, gums and sugar alcohols. I gave it to my kids just to hear their opinion. You may or may not want to give some of these ingredients to your kids.
What my 3-year-old twins said: They didn't say anything. They didn't dislike it and would probably be happy to have another spoonful if I offered more.
---
Nordic Naturals Baby's DHA
Cost: $13.56 for 2 oz. bottle
Serving size gotcha: 5 ml serving! Dropper provided is for 1 ml.
Serving size: 1 dropper (1 ml)
Omega-3: 210 mg
EPA: 70 mg
DHA: 97 mg
Ingredients: cod liver oil, rosemary extract, d-alpha tocopherol (Vit E), cholecalciferol (Vit D3) in olive oil.
My comments: this was the very first baby DHA product that I purchased after my twins were born. The idea was to put a dropper of it into their milk. We tried it once and tossed the bottle – it was off-the-charts rancid. This is rare for Nordic Naturals, as they usually don't sell stinky stuff. The whole house stunk and the stench was hard to get off the bottles.
What my 3-year-old twins said: of course, they were too young to comment, but they flatly refused the bottle with 1 ml of the product mixed in with 8 oz of milk. Imagine if I'd given the kids 5 ml like the label suggests.
---
Nordic Naturals Omega-3 Fishies
Cost: $21.25 for 36 servings

Serving size: 1 fishie
Omega-3: 300 mg
EPA: 150 mg
DHA: 100 mg
Ingredients: fish oil, xylitol, purified water, sorbitol, gelatin, natural tutti frutti flavor, citric acid, trisodium citrate, paprika extract, canola oil.
My comments: These are NOT gummies. This is a high-tech candy with a meaningful dosage of Omega-3 in each tasty fish-shaped gelatinous fishy thingie. They're expensive, your fingers get a little oily when you eat them and have some less-than-ideal ingredients like sugar alcohols and canola oil (definitely not non-GMO), but despite all of that, this is my favorite product of the bunch. There is water in the formula, so I expect the shelf-life to be shorter than promised.
This product is definitely worth trying.
What my 3-year-old twins said: they will happily eat it.
---
Nordic Naturals Omega Boost
Cost: $18.99 for 6 oz. bottle.
Serving size: 1 teaspoon (5 ml) – roughly 30 servings per bottle.
Omega-3: 525 mg
EPA: 270 mg
DHA: 165 mg
Ingredients: water, fish oil, xylitol, glycerol, natural mango flavor, gum arabic, citric acid, rosemary extract, guar gum, sorbic acid, xanthan gum, d-alpha-tocopherol, natural vanillin crystals, vegetable juice color, turmeric extract, mixed tocopherols.
My comments: This is a comparable product to Barleans Swirl. It has a laundry list of ingredients necessary to make fish oil taste acceptable to picky kids. Turning fish oil into an emulsion smoothie, to make it taste decent and not go rancid overnight is not easy. So the food scientists who concocted this brew must have felt like they needed all the other ingredients. It's the price you pay for taste.
Besides that, I thought it tasted pretty good and there is a solid dose of Omega-3 per teaspoon. Between Barleans Kids' Swirl and this, I'd go with this.
What my 3-year-old twins said: when I gave them the smoothie by itself, one of them wanted more and the other ran away. So, 50/50. Your mileage may vary. I then tried adding a teaspoon to a freshly made blueberry, banana, coconut milk smoothie – they picked up the taste right away and would not have the smoothie, which they otherwise love. May be I should have added it to something unfamiliar.
---
NatureMade Fish Oil Pearls
Cost: $11.99 for 90 pearl-sized pills
Serving size hype alert: bottle label is for 3 pearls, not one. Each pill does NOT have 500 mg of Omega-3.
Omega-3 per pill: 183 mg
DHA per pill: 92 mg
EPA per pill: 76 mg
Ingredients: fish oil, gelatin, glycerin, water, tocopherol.
My comments: These 'pearls' have a kid-friendly size. It may work very well for older kids who can manage to swallow pills. May not work so well for toddlers. My kids are more likely to play with these things or stomp on them than swallow them as instructed, so I haven't offered. They're small enough that I can swallow these by the handful. Worth a try.
---
L'il Critters Omega-3 DHA
Cost: $7.99 for 120 gummies
Serving size gotcha: label is based on 2 gummies
Omega-3 per gummy: 50 mg
DHA per gummy: 16 mg
EPA per gummy: ?
ALA per gummy: 34 mg
Ingredients: Glucose Syrup, Sugar, Gelatin, Natural Flavors, Soy Lecithin, Citric Acid, Carrot and Blueberry Juices (Color), Black Carrot Juice Extract (Color), Turmeric (Cucuma Longa) (Color), Lactic Acid, Fumaric Acid.
My comments: the first two ingredients are glucose and sugar. That's all I need to know. But the real gotcha here is that the Omega-3 number is fluffed up with ALA Omega-3 from Flax. ALA Omega-3 is very poorly absorbed by the body and it is fairly useless as is because it needs to be converted by the body to EPA and DHA. Granted kids do this better than adults, but hardly any of the ALA is converted to essential DHA. So most of the Omega-3 in this product is not usable. We don't know how much EPA is present, but each sugary gummy has just 16 mg of DHA.
What my 3-year-old twins said: I'm not giving this to my children, no matter how many truckloads of it they sell at Costco. The wild alaskan salmon that Costco has in the summer…now that I'll give to my kids.
---
What I give my kids
We do our best to get Omega-3 through diet.
The best ways are:
You'll have to get clever. 2-year-olds are fairly easy to fool – we sold them kale chips as 'green bacon.' Score!
Finally, it's good to remember that health starts in the kitchen and not the medicine cabinet because no supplement or drug can outrun a bad diet.
Your Turn…
If you know any tricks or have tried any products that I've not listed above, post a comment below.
---
*These statements have not been evaluated by the Food and Drug Administration. This product is not intended to diagnose, treat, cure, or prevent any disease.